Managed IT
Get a Quote
Enter your contact details below and a member of our team will be in touch shortly.
Our cost-effective IT Solutions are aimed to meet the unique requirements of your business.
Lily deliver IT support when you need it; keeping your data secure from spam emails and viruses, storing your valuable emails and files in our secure cloud storage, giving you control of your mobile devices with our mobile device management software and so much more.
Our Managed IT Support service is designed to provide your business with high quality, cost-effective support without the drain on internal resource. We understand that the requirements and level of IT knowledge in each company is different, which is why we'll always tailor our service to be right for the needs of your business.
Our professional team have a combined experience of almost 50 years in IT and are Microsoft Certified. We pride ourselves on making IT support simple to understand and simple to access - we take the jargon out of IT and our availability is flexible to suit the demands of your organisation.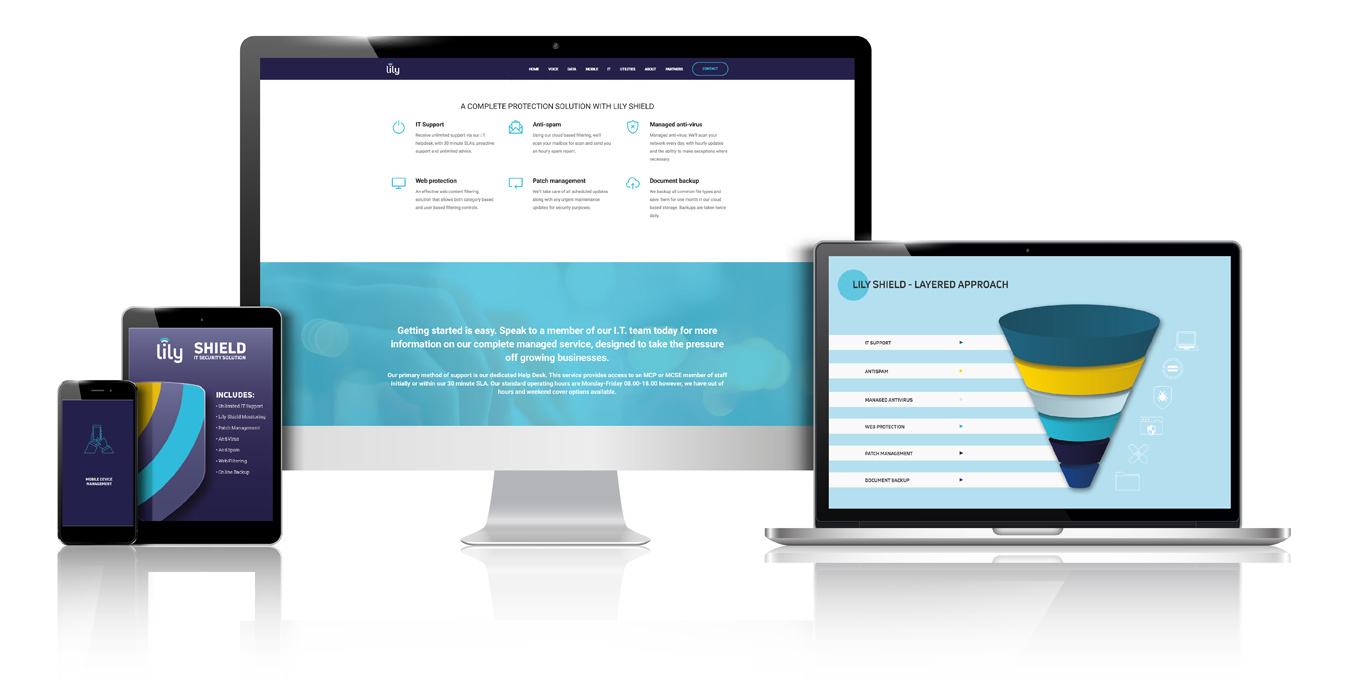 Our primary method of support is our dedicated Help Desk. This service provides access to an MCP or MCSE member of staff initially or within our 30 minute SLA. Our standard operating hours are Monday-Friday 08.00-18.00 however, we have out of hours and weekend cover options available.
Our Help Desk service can be enhanced by providing onsite resources. This can be as little as a few hours per month or scheduled days on a weekly basis. Again, we tailor this offering to your need.
At Lily, all our Support Contracts include 24×7 Monitoring, Patching & Reporting, which alert our technical team to potential problems, enabling us to rectify these before they manifest and affect your business.
A complete protection solution with Lily Shield
IT Support
Receive unlimited support via our IT helpdesk, with 30 minute SLA's, proactive support and unlimited advice.
Anti-spam
Using our cloud based filtering, we'll scan your mailbox for scan your mailbox for spam.
Managed anti-virus
We'll scan your network every day, with hourly updates and the ability to make exceptions where necessary.
Web protection
An effective web content filtering solution that allows both category based and user based filtering controls.
Patch management
We'll take care of all scheduled updates along with any urgent maintenance updates for security purposes.
Document back-up
We back-up all common file types and save them for one month in our cloud based storage. Back-ups are taken twice daily.
Getting started is easy. Speak to a member of our IT team today for more information on our complete managed service, designed to take the pressure off growing businesses.
We partner with some of the worlds leading technology brands







Why Choose Lily?
Multi Award-Winning Business
86% of our customers have saved money
We work with leading technology partners for the most innovative comms and IT solutions
Tailored services unique to your business
Consolidate your bills & services with one trusted provider
Dedicated account manager
24/7 support options